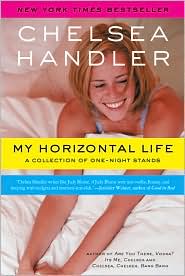 What starts off as a hilarious story about walking in on her parents having sex quickly becomes just mildly entertaining. While I love her later work,
Are You There Vodka? It's Me, Chelsea, My Horizontal Life
leaves much to be desired.
Readers of the latter while remember Chelsea's racist father and her token black friend, Shondrella. Both are introduced in this book. Chelsea's father is determined to keep her away from black men, which only makes her all the more determined to sleep with as many as she can. In the meanwhile, happily married Shondrella is trying to hook her up with any many she considers a keeper.
I'm sure this was meant to be funny, but all in all, Chelsea Handler just comes off as pretty pathetic in this one.
What did you like about this book?
It had some funny moments, but not enough for me to really enjoy it.
What did you dislike about this book?
The author relies entirely too much on stereotypes when it comes to her sleeping partners and stories about them.
What could the author do to improve this book?
Considering that it's based on her life, not much at all.
213pp
Published June 2005
Theme:
Lowdown
by Boz Scaggs