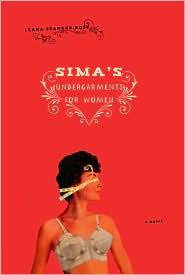 From her basement in Brooklyn, Sima Goldner runs a small shop specializing in women's undergarments. A "bra whisperer", Sima can look at a woman and immediately tell what size bra she should be wearing. Her life with her husband has been stable, but less than satisfying for over thirty years. And then Timna enters her life.
When her in-shop seamstress quits, Sima hires a young woman that happens into her shop. A young Israeli woman, Timna is everything Sima wishes she could be: young, fearless and beautiful.
Sima's Undergarments for Women
is a the story of an unlikely friendship between a 60something Jewish woman and a 20something Israeli expatriate.
Estranged from her mother and missing her boyfriend, Timna seeks refuge in the small shop. A former soldier in the Israeli army, an argument with her mother drove her away from her country and to America. Living with cousins she barely knows, spending time with Sima and the colorful cast of customers helps her pass time until her boyfriend's tour of duty is up and he can join her in America.
Having Timna in her life gives Sima the courage to rediscover the reasons why she married her stodgy husband, Lev, and move forward with the life she's put on hold for so many years.
What did you like about this book?
The cast of characters was very interesting. Each customer had a backstory and those were the most entertaining parts of the book, in my opinion.
What didn't you like about this book?
It was a very slow read. There were times that I really needed the pace to pick up and it just never did. It was recommended as a beach read, but it wasn't the kind of light and fluffy read that I would suggest for the beach.
What could the author do to improve this book?
It's understandable that the book was about Sima, but because Timna played such a big part in it, I really felt like more of her story should have been told. We only know as much about her as Sima is allowed to see, but nothing beyond that. There seemed to be a real story waiting to be told, but not necessarily enough to warrant a sequel or separate book. Additional paragraphs and/or chapters to tell Timna's story would have been welcome.
304pp
Published February 2009
Theme:
Easy Silence
by The Dixie Chicks