Throwback Thursday, an
event hosted by Jenny over at
Take Me Away Reading
,
is a new meme I'll be featuring at least once a month It's the time to recognize those older books… an older book you've always wanted to read, or one that you have read and love; maybe one from your childhood; or review an older book -- how about even a classic!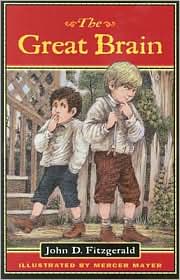 Synopsis:
Set in the fictitious small town of Adenville, Utah, between 1896 and 1898, the stories are loosely based on Fitzgerald's childhood experiences. Ten-year-old Tom D. Fitzgerald is known to everyone as The Great Brain. J.D., The Great Brain's sometimes confounded but always-admiring younger brother, tells his story. Such people as Mr. Standish, the mean schoolmaster, regret the day they came up against The Great Brain. But others, like the Jensen kids lost in Skeleton Cave, Basil, the Greek kid, or Andy, who has lost his leg and his friends, know that Tom's great brain never fails to find a way home.
Originally published:
1967
As a kid I read this series repeatedly. I don't know why I was so fascinated by the Great Brain. He was arrogant and obnoxious, but the predicaments he often found himself in were funny. When I read the series, there were just seven books. I was surprised to find that an eighth book was published in 1995 based on the author's notes. I vaguely remember a TV movie version of the first book, starring Jimmy Osmond. I didn't love it.
These would be great reads for young boys. Has anyone else read this series?