Throwback Thursday, an
event hosted by Jenny over at
Take Me Away Reading
,
is a new meme I'll be featuring at least once a month It's the time to recognize those older books… an older book you've always wanted to read, or one that you have read and love; maybe one from your childhood; or review an older book -- how about even a classic!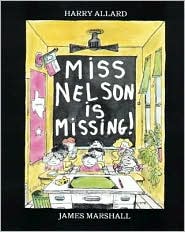 Synopsis:
The kids in Room 207 take advantage of their teacher's good nature until she disappears and they are faced with a substitute.
I was on Twitter a few nights ago when @txdivadoll mentioned that she was reading
Miss Nelson is Missing!
with her niece. I tried to recall when I first read this book. I thought I may have read it to my younger sister or even my daughter. Surprise, surprise, I read it myself in the second grade.
A grade school classmate reminded me that we passed it around the class, taking turns reading it, wondering if perhaps our own Ms. Wolf might come up missing one day and who would show up in her place. Well Ms. Wolf never came up missing, but we all loved this story of a good teacher gone bad to get her student's respect.
Recommended for
: 5 to 8 years old
Originally published:
1977