If Judy Blume was the queen of tween and teen lit in the 70s and 80s, Lois Duncan was a distant relative. Though she's probably best known for penning
I Know What You Did Last Summer,
my favorite book of hers was
Killing Mr. Griffin.
Interesting fact: she also wrote
Hotel for Dogs
.
I Know..., Hotel for Dogs
and
Killing Mr. Griffin
were turned into movies. Can't say that I cared for any of the screen adaptations.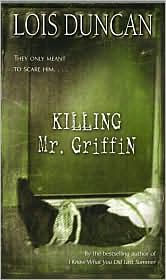 Synopsis:
They only meant to scare him.
Mr. Griffin is the strictest teacher at Del Norte High, with a penchant for endless projects and humiliating his students. Even straight-A student Susan can't believe how mean he is to the charismatic Mark Kinney. So when her crush asks Susan to help a group of students teach a lesson of their own, she goes along. After all, it's a harmless prank, right?
But things don't go according to plan. When one "accident" leads to another, people begin to die. Susan and her friends must face the awful truth: one of them is a killer.
Originally published: 1978