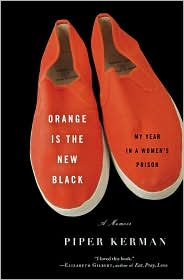 How does a Smith College graduate end up in federal prison? The better question might be, how does she survive it and live to tell about it with a sense of humor?
Orange is the New Black
follows the life of Piper Kerman from her "fresh out of college" years to her stint in a federal prison for women.
Everyone does dumb things in their twenties. Piper's dumb thing was falling for Norah, the leader of an international drug smuggling and money laundering ring. What starts off as a quick and easy way to make money, while spending time in foreign destinations with her girlfriend, turns into a dangerous game that Piper finds herself no longer willing to play. Finding herself back in the states after an unsettling trip, she resolves to leave that life behind.
Settling into a normal life, she meets her future fiance, Larry, and works as an infomercial producer. Fast forward ten years and the feds are knocking on her door. And so begins her year in federal prison.
Through her writing, readers are introduced to a host of characters. There's Natalie, Piper's quiet roomie; Pops, an older woman who runs the kitchen with an iron fist; Yoga Janet whose name is self-explanatory; and Sister Platte, a nun serving time as a political prisoner. In addition there the guards and administrators of the prison.
While reading this I had flashbacks to the Australian TV series,
Prisoner Cell Block H.
I remember staying up as a kid and sneaking to watch it. I was so fascinated by what went on in prison, though not enough to take a trip there myself.
Orange is the New Black
provides another peek into that life with just enough humor to keep you entertained. The biggest difference between the women on the series and Piper's fellow prisoners is that they were walking back into uncertain lives after prison, while hers was already laid out for her.
What did you like about this book?
I love that the author just told her story. At no point did I feel like she wrote it looking for sympathy.
What didn't you like about this book?
The book ends with her release, but I would have been happy to read a little beyond that to find out how she transitioned back into society. Granted a year in prison probably isn't enough to dramatically change your thought process, but it would have been interesting to find out.
What could the author do to improve this book?
I'd be interested to know if she had any contact with her fellow prisoners once they were released. It seems that there were a few that she had gotten close to so I'd like to know if their friendships ended when she walked out of prison or if they continued.
I'd also like to hear their post release stories.
320pp
Published April 2010
Theme:
Gone Till November
by Wyclef Jean