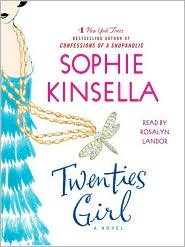 If you've ever seen or read
Confessions of a Shopaholic
, you know that Sophie Kinsella can write funny characters. I'll admit that I haven't read the
Confessions
series, though I've seen the movie. I was underwhelmed by it. I've never read a Kinsella book before, but based on the movie, I didn't expect much. A few laughs here and there, but nothing cackleworthy. To my surprise, and delight,
Twenties Girl
is extremely cackleworthy!
I was looking for another audio book that didn't require much thought while driving, yet I needed it to be something that my daughter wouldn't mind listening to either. That ruled out a lot of
books. I'm so glad I gave this one a try.
Lara Lington is a modern day Londoner. She's recently been dumped by Josh, the love of her life; and her best friend Natalie has gone on holiday. That wouldn't be a bad thing, but Natalie and Lara just opened a headhunting business together. Having worked as a headhunter at her previous company, Natalie is the one with all the knowledge of how the business works. When she's left in a lurch by her bestie, it's up to Lara to figure out how to keep the business afloat, without letting on to her parents that she's slowly drowning.
In the midst of her never ending drama, Lara is forced to attend the memorial service for a 105 year old great aunt she never knew. If nothing else comes of it, she figures she'll get a chance to ask her uncle, the great Bill Lington of Lington Coffee, about connecting her to his Human Resources department. Everyone in London knows how Uncle Bill started his Starbucks-like empire with two little coins years ago and now he's a millionaire. Lara doesn't need his money, she just needs a shot at connecting with a large human resources department that might be able to use her services.
It's a sad group of people that show up to wish Great Aunt Sadie farewell. Lara can't remember ever meeting her and though her father and Uncle Bill are Sadie's only nephews, neither can remember the last time they visited her in the nursing home. Yes, well all of that is sad, but Lara has problems of her own. Those problems are only made worse when the ghost of Great Aunt Sadie shows up demanding that Lara get back her necklace!
Lara has no idea what Sadie is talking about, but Sadie won't go away until Lara finds her beloved piece of jewelry. She also won't allow herself to be buried with out. Thus begins the adventures of the most unlikely duo.
What did you like about this book?
It was absolutely hilarious. Much like when I'm reading a good book that I don't want to put down, I didn't want to stop listening at times.
What didn't you like about this book?
There were some predictable lines here and there, but nothing that took away from the overall enjoyment of the story.
What could the author do to improve this book?
I would love to see a series with Lara and Sadie. I know that the author has done quite a few books based off of the
Confessions
character. Surely Lara and Sadie are funny enough to qualify for their own series.
Length: 6 hours, 29 minutes
Published July 2009
Theme:
There She Goes
by Sixpence None the Richer