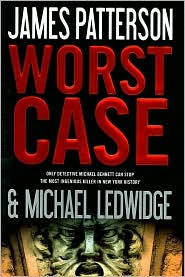 I was just about ready to write Michael Bennett and his crew of kids off. If you're like me, you've been waiting on this series about a New York detective to get better and with
Worst Case
, it finally has. What was boring and predictable in the first two books is no more. With this third book, the co-authors seem to have found their groove.
Readers of the series will remember that Detective Bennett is raising the ten kids he and his wife adopted before she passed. He gets plenty of help from Mary Catherine, the Irish nanny, and his grandfather, Seamus, a Catholic priest. Things between Mike and Mary have started to heat up, but as usual, he's been too distracted by the job to really give their relationship the attention it deserves.
When children of the wealthiest New Yorkers are being kidnapped and turning up dead, the detective finds himself paired with a FBI agent Emily Parker. The two of them can't seem to find the connection between any of the children. What they do know is that if they don't find it soon, someone else's child could be next. It becomes a race against time to stop the kidnapper before Ash Wednesday.
A sixties' activist turned corporate attorney has become disenchanted with the world. People in the sixties cared about the world, but this current generation only seemed to care about themselves. Desperate to spread his message, he begins picking teens, seemingly at random, to test them on their knowledge of current events. The way he plays final Jeopardy is like nothing anyone has ever seen.
What did you like about this book?
Unlike the first two books in the series, this was not at all predictable. It was a very quick read, perfect for a Sunday afternoon.
What didn't you like about this book?
The relationship between Mike and Emily had a few funky twists to it that seemed somewhat unrealistic. It didn't affect the overall story line, but it made me question why it was included.
What could the author do to improve this book?
In the previous books there's been almost an equal representation of home life and work life. With this book there seemed to be more focus on work. It's unrealistic to think that someone with ten kids would spend so little time at home, leaving the care solely to a nanny and an elderly man. I enjoyed the focus on work, but there should be a better balance.
356pp
Published February 2010
Theme:
A Change is Gonna Come
by Sam Cooke