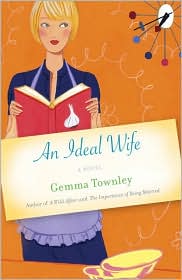 Gemma Townley is no Sophie Kinsella. I picked this up a few weeks ago for the read-a-thon because I needed something light and fluffy to start my morning off. This was so light that it could have floated away on a cloud and I wouldn't have missed it. To be fair, it wasn't a bad book, it just wasn't very memorable.
In typical chick lit fashion, there's the lovable female lead character. This time she happens to be married to the man of her dreams and they're living the good life. Working with her husband at a firm that he bought out has proven to be a challenge, but Jessica is up for it. She's the perfect office wife, but now she's on a mission to become the ideal wife.
Ahhh, don't we all long for the days of domesticity? Oh, you don't? Me either, but Jessica does so she takes cooking classes, learns how to clean house, basically all of the things that make a house a home. Her quest to spice up the romance department takes a turn for the worst when their bedroom tryst lands Max in the hospital. With Max in the hospital, it's up to Jessica to run the firm.
Throw in a spacey mother, a semiretired Russian stripper for a friend and a nurse that's surely out to trap her husband, and you have an overstretched Jessica on your hands. Add in Max's rival whom Jessica may or may not have slept with right before her wedding and the two scary guys following her around, and you have someone on the verge of a nervous breakdown.
This book had so many moments to be hilarious and it just kept falling short. It could be that the bar has been set too high for chick lit. Has anyone else read this author's work? Am I wrong?
What did you like about this book?
I was looking for light and fluffy and it delivered that.
What didn't you like about this book?
It was more unrealistic than I would have expected and not as funny as I would have expected.
What could the author do to improve this book?
Hmmm, I'm still thinking about that.
256pp
Published June 2010
Theme:
I'm Every Woman
by Whitney Houston