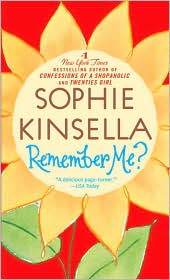 How many times have you wished you could wake up from the horrible nightmare that is your life sometimes and find that everything in your universe is perfect? Meet Lexi Smart, this is her tale.
A night out with the girls is just what Lexi needs the night before her father's funeral. Her boyfriend, Loser Dave, has stood her up again, but she's determined to have a good time with Fee, Debs and Carolyn. With a drunken round of karaoke behind them, they head for their next spot with Lexi leading the way. A fall from the curb renders her unconscious and when she wakes up, it's 3 years later. Gone are the teeth that earned her the nickname "Snaggletooth", her blah hair and her uncertainty.
There's a new Lexi in town. In this new world of hers Lexi is beautiful with a stunningly gorgeous husband. She has a fancy condo, all of the clothes she could ever imagine and she can drive! What she doesn't have is any memory of how all of this came to be. Never fear. Her overly anal husband, Eric, has prepared a marriage manual to help her remember how things go around the house. But no one has a manual for her day time job.
The Lexi of 3 years ago had just started a new job and was still learning the ropes. Present day Lexi is the head of the department and has no idea how she got there. All she knows is that her department is at risk of going under unless she can pull off a miracle.
Her friends from yesteryear no longer speak to her and her new best friend, Rosalie, is the kind of woman she would have made fun of just a few years ago. To complicate matters even further, her husband's architect, John, swears that they were having an affair and that she was planning to leave Eric right before the accident.
What did you like about this book?
Sophie Kinsella books are well on the way to becoming my favorite, light-hearted reading. There is always an element of comic relief. In this instance it's provided by both Lexi's bumbling mother and street hustling sister, Amy.
What didn't you like about this book?
Can't think of a thing.
What could the author do to improve this book?
Nothing
Listening time: 12 hours, 51 minutes
Published March 2008
Theme:
Last Name
by Carrie Underwood