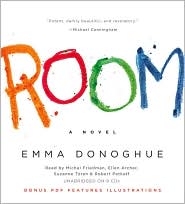 I was hesitant to give this book a listen for a few reasons. First was that I couldn't imagine how the subject of being held hostage could be made entertaining. Second was that the book was told mostly from the point of view of a five year old and I wasn't sure how that would translate. I was shocked to find that the book held my attention, was entertaining overall and the five year old's voice didn't wear me out like I thought it would.
Jack and Ma have lived in
Room
all of Jack's life. Because it's just the two of them, they have taken to treating inanimate objects as members of the family. There's Rug, the dirty piece of carpet that covers their floor. It's the same piece of carpet that Ma gave birth to Jack on and the blood stain from his delivery remains. There's Wardrobe, where Jack sleeps at night until Old Nick, Ma's abductor, leaves. There's Duvet, the blanket that keeps them warm at night. And so it goes.
Through Jack's narration readers learn that Ma was abducted as a college student and has been held hostage in a soundproof shed in Old Nick's back yard for the past seven years. And while Ma longs to escape, Jack is perfectly content to live in the only world that he's ever known with the only friends he's ever known.
What did you like about this book?
Room
covers a little over a year in the life of Ma and Jack. While the thought of listening to, or reading about, someone's day to day, mundane life in 200 square feet could be boring, Emma Donoghue finds ways to keep both listeners and readers captivated. I literally did not want to get out of the car after my morning commute because I just wanted to keep listening.
What didn't you like about this book?
At first Jack's voice really, really annoyed me. Not only did the tone annoy me, the voice did as well, until I reminded myself that he was supposed to be five and that five year olds do not always speak properly. Once I got past that, it was fine.
What could the author do to improve this book?
Without giving any spoilers, I would have liked the author to do a look ahead into the future. I am very interested in knowing what Ma and Jack's life are like 5 years, 10 years, 15 years down the road.
Listening time: 10 hrs, 45 minutes
Published September 2010
Theme:
Luka
by Suzanne Vega