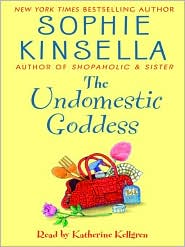 As you can tell, I've been on a chick lit roll lately. So you know I loved
Twenties Girl
and
Remember Me?
, but I really thought it was just a fluke. I mean every writer has a not so great book occasionally. I haven't read all of Sophie Kinsella's work, so I can't say she always hit it out of the park, but I haven't been disappointed with her work yet. If you've enjoyed reading the reviews as much as I've enjoyed reading/listening to the genre, hang on until the end for a giveaway.
The Undomestic Goddess
has all of the elements of a typical Kinsella book: a likable leading lady; a less than perfect situation; a handsome, yet humble leading man; and an "a-ha" moment. This time around we're introduced to Samantha Sweeting, hard working attorney-at-law on her way to becoming the youngest partner in the firm's history. A costly mistake at the most prestigious law firm in London leads her to flee the city and her job.
A case of mistaken identity lands her a job as the hired help for a nouveau riche couple. The only problem is, Samantha can't cook or clean. Though she tries to cover it up, the gardener picks up on it right away and points her in the direction of someone who can help her. Before she knows it, Samantha has adapted to living in the small village and indeed, becomes a domestic goddess. Just as she decides that this is the life she wants to leave, news from her old world disrupts her dreams and sends her crashing back to reality.
What did you like about this book?
As always, it was an easy listen with tons of laughs and lighthearted moments.
What didn't you like about this book?
It was predictable in parts. I don't know if that's because I read so much or because the author is transparent, but it didn't take away from the overall book.
What could the author do to improve this book?
Nothing
Listening time: 6 hours, 52 minutes
Published: November 2007
Theme:
More Than What I Wanted
by CeCe Winans
Thanks to Low Country Marketing Group, I have two (2) copies of Sophie Kinsella's Confessions of A Shopaholic to give away. Don't worry, they're actually hard copies so you can read it instead of listening to it. Interested? Simply leave a comment below telling me what your favorite chick lit book is and why, by next Friday (October 22). I'll use a random number generator to pick two (2) winners. So get to commenting!