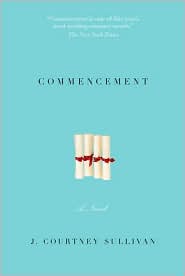 I really wasn't sure of what to expect when I picked up
Commencement
. I wasn't familiar with the author, but I was looking for something to get me through last month's read-a-thon with ease. This did the trick.
Commencement
is the story of four graduates of Smith College, of which the author just happens to be a graduate. It follows them from the day they meet as freshmen until shortly after graduation. I would go into detail about each of the women, but honestly, with the exception of April, the other three are so much alike that I had to keep reminding myself about whom I was reading.
Raised by a single mother in Chicago, April is the feminist rabble rouser who's always ready to support the movement. Bree, Celia and Sally are pretty much the same person except one discovers she's a lesbian, another lost her mother right before school started and the third...um, yeah. The book is very, VERY vanilla in characters.
So why did I keep reading the book if I was unimpressed with the characters and their lives? Because their friendships and their lives in and out of college reminded me of my college crew. Certainly none of us were sitting around with millions in the bank that we refused to touch, like one of the characters. None of us were infiltrating government agencies to create documentaries on them. What was realistic was the way that you can lose touch with friends that you shared so much with if you don't work at maintaining those bonds or if you leave too much unsaid for too long.
What did you like about the book?
I appreciated the relationships between the women. It made me want to reconnect with people I lost touch with. As a matter of fact, I spent two hours on the phone with my BFF from college shortly after reading this playing, "What ever happened to..." We've also planned a vacation together next year, something we haven't done in at least five years.
What didn't you like about the book?
Like I said, there was nothing really distinctive about the women. I can tell that the author thought she'd given them enough characteristics to make them stand out, but she fell short.
What could the author do to improve this book?
With the ending she wrote, it seems that the author plans to write at least one more book with these characters. My suggestion would be that she do something to make each of them stand out and perhaps bring some spice to the story line.
324pp
Published June 2009