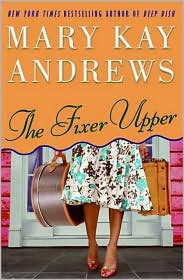 This book made me want to pack my stuff up and move to small town, USA.
The Fixer Upper
is the story of Dempsey Killebrew, attorney-at-law. A lobbyist in a prestigious Washington, DC firm, Dempsey's life is pretty sweet. As proof that she's the agency's star, she's allowed to accompany her boss and a congressman he's wooing on several trips. That would be just fine if her boss and said congressman weren't now being investigated by the FBI!
Dempsey's world comes crashing down in just one afternoon and she does what anyone in her situation would do. She heads to Guthrie, Georgia. When Dempsey's father hears of her dilemma, he realizes that she's the perfect person to work on restoring the old family homestead in the small town he was born in. Yes, Dempsey is a Georgetown attorney with no clue as to how to restore a house, but she has plenty of time on her hands.
Mary Kay Andrews introduces a lively cast of characters in this hilarious story. There's Ella Kate, the crotchety old woman that lives in Dempsey's home. She was Dempsey's great uncle Norbert's caretaker, and possibly her grandmother's lover, and she and her cocker spaniel, Shorty, aren't about to give up their house without a fight. There's also Dempsey's elderly lawyer, Carter Berryhill, and his son T, who provides a romantic interest for Dempsey. In addition to the good townspeople, Dempsey also has the FBI breathing down her neck. She can either play nice with them or risk facing jail time.
What did you like about this book?
I don't know how well the comedic timing of the lines translate for anyone reading it, but it was absolutely hilarious to listen to. The narrator, Isabel Keating, is masterful with her voices. Voices aside,
The Fixer Upper
is a charming piece of chick lit and I'm adding more from the author to my 'to be read' list.
What didn't you like about this book?
The only thing that really made no sense to me was how naive Dempsey was supposed to be. As a Georgetown trained attorney, she wasn't always the brightest bulb in the box and that struck me as a little unbelievable.
What could the author do to improve this book?
I don't know that a sequel is intended, but since it was left a little open-ended, I certainly wouldn't mind a visit back to Guthrie, Georgia.
Listening time: 15 hours
Published: June 2009
Theme:
Country Girl
by Rissi Palmer