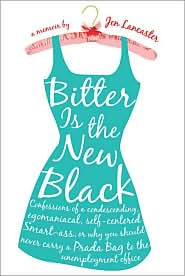 HI-FRIGGIN-LARIOUS. I could end this review right there because it really sums up everything I need to say. I was talking to the Twitterati a few weeks ago about good audio books. I spend at least an hour a day in the car, 30 minutes of it with an angsty teen, so I try to keep the mood light. After inquiring about something funny to listen to, the overwhelming majority of tweeters told me I just had to check out Jen Lancaster. I'd never heard of her, but a quick check of the libraries automatic downloads made it easy for me to get started.
Everyone told me that if I was going to start with any book, it had to be
Bitter is the New Black: Confessions of a Condescending, Egomaniacal, Self-Centered Smartass, Or, Why You Should Never Carry A Prada Bag to the Unemployment Office
. I'm so glad I listened to them. From the very beginning Jen pulls you into her kooky Jeniverse. She's a proud material girl who has absolutely no qualms about spending money on thing she wants. She's rude and abrupt, but only as needed. And she's certifiably and unapologetically the queen of snark.
When we first meet her she's kicking ass and taking names as saleswoman supreme. With a six figure salary and a boyfriend making decent money himself, they're living la vida loca in a penthouse apartment in downtown Chicago. A layoff forces Jen to re-access her life, but not without a lot of bumps and bruises and hilarity along the way.
What did you like about this book?
I LOVED the snarkiness of it all. In fact, I loved it so much that as soon as I finished listening to it, I downloaded the prequel
Pretty in Plaid: A Life, a Witch, and a Wardrobe, or, The Wonder Years before the Condescending, Egomanical, Self-Centered Smart-Ass Phase.
What didn't you like about this book?
Not a thing
What could the author do to improve this book?
What part of not a thing didn't you get?
Listening time: 10 hours, 18 minutes
Published: March 2006
Theme:
Ironic
by Alanis Morrisette