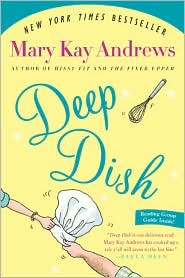 It's Paula Deen, y'all! Okay, it's not Paula Deen, but
Deep Dish
did remind me of Paula and her southern euphemisms several times. It's the story of Gina Foxton, former runner-up for Miss Teen Vidalia Onion turned cook extraordinaire, and Tate Moody, rugged outdoorsman. You already know from the onset that they'll end up together, but getting them from point A to point B is what makes the trip worthwhile.
Gina has worked her way up from small town country girl to host of a cooking show on a local cable access channel in Atlanta, Georgia. When her current boyfriend/producer's escapades get her show canceled, Gina is worried that she'll never make it to the big time. Luckily there's a new reality show featuring chefs being cast.
Tate Moody makes women swoon and men applaud. He's a hunter, fisher and a cook.
Vittles
, his show about cooking what you find on the hunt, gets high ratings in his market. With his faithful dog Moonpie by his side, Tate is ready to take on Gina Foxton and anything else that stands in his way of winning the cook off.
When I read Mary Kay Andrews'
The Fixer Upper
earlier this year, I wasn't sure if her writing would hold up enough for me to enjoy another book by her. Honestly, I picked up another one of her audiobooks,
Blue Christmas
, and quickly ejected it from my player. I didn't vibe with the characters or the story line, so I wasn't sure about giving
Deep Dish
a try. I'm glad I did.
What did you like about this book?
What makes a Mary Kay Andrews book a unique experience is her use of regional dialect. I thoroughly enjoy hearing the slang and phrases sprinkled throughout the character's conversations.
What didn't you like about this book?
Gina had an opportunity to get rid of her producer/boyfriend early on, though readers/listeners aren't made aware of this until very late in the book. I have to question why she kept him around as long as she did.
What could the author do to make this book better?
I got stuck at one point when she kept referring to a member of Tate's staff as "the Mexican." Really? In this day and age we're labeling people like that? Every other character, including "the Mexican" had a name, but instead of referring to him as Tate's prep chef or by his name, Andrews chose to refer to him as "the Mexican" throughout the chapter in which he was featured. I would hope that the author learns to use more appropriate descriptions for her characters.
Listening time: 6 hours, 12 minutes
Published February 2008
Theme:
I Still Like Bologna
by Alan Jackson