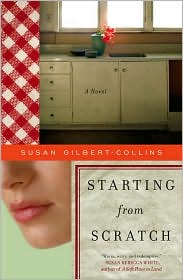 When her mother dies the same day Olivia successfully defends her doctoral dissertation, Olivia quietly keeps it to herself. While her siblings resume their lives, she stays behind in small town South Dakota to sort things out. In her time there she discovers family secrets as well as secrets about herself.
In an effort to get her out of her funk, and perhaps because she's fallen into one herself, Olivia's older sister has her take over her volunteer duties with a local organization. Through her Meals on Wheels route, Olivia meets the quiet Mrs. Kilkenny, who keeps mistaking Olivia for her deceased mother. Though her mother never mentioned her, Olivia can't help but to believe that they must have been friends at some point.
What did you like about this book?
Olivia's mother created newsletters with recipes and advice to readers. It's obvious that Olivia inherited her passion for cooking and creating new recipes As a final tribute to her mother Olivia completes the final newsletter for her. As Olivia cooks for her family throughout the book, the author includes recipes here and there. As someone that loves to cook, I'm dying to try some of them out.
What didn't you like about this book?
Toward the end of the book Olivia makes a confession to her best friend that required, in my opinion, a response. Not only was a response not given, there were no clues as to what the response might be. I just felt like it was an open-ended question that deserved an answer.
What could the author do to improve this book?
Tell us what happens with Olivia and Harry!
322pp
Published August 2010
Theme:
Through the Years
by Kenny Rogers