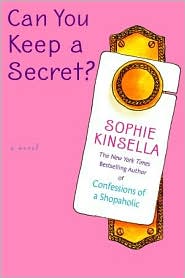 "When Artemis really annoys me, I feed her plant orange juice. (Which is pretty much every day.)"
"I lost my virginity in the spare bedroom while Mum and Dad were downstairs watching Ben-Hur."
And so it goes. Emma Corrigan is deathly afraid of flying, but her job requires her to so she has no choice but to do so. Flying to the meeting was a breeze, but after she flubs what should have been an easy presentation, she's a nervous wreck. Emma plans to just get the flight over with, but turbulence along the way leads to her nervously spilling her guts to her handsome seat mate. Before it's over she's told him things that she's never told anyone. But it doesn't matter because she'll never see him again, right? Come on now, this is a Sophie Kinsella book, you know how it works. Who else but a Kinsella lead tells all of her secrets to her...boss?
This is probably my favorite Kinsella book right after
Twenties Girl
. Not only is Emma funny, but her flat mates, Lissy and Jemima, are as well. Lissy is an attorney by day and hoofer by night, while Jemima is...well, she's a gold digger and an unsuccessful one at that. When Emma's secrets become public knowledge, her faithful sidekicks come to her rescue and hilarity ensues.
What did you like about this book?
I'm not sure who picks the narrators for audio books, but they add so much to the story. I would have enjoyed this book had I read it, but listening to it made it even more enjoyable. The narrator did an excellent job of voicing the characters.
What didn't you like about this book?
In reading more chick lit, I've found that other authors give the male interest more of a voice. I've yet to see that really happen in a Kinsella novel. The male counterpart tends to be a secondary character. I'd love to see her write from the male point of view.
What could the author do to improve this book?
Not so much a sequel featuring Emma, but I'd love to see a spin-off featuring Lissy and Jemima.
Listening time: 10 hours, 45 minutes
Published August 2006
Theme:
She Won't Talk To Me
by Luther Vandross