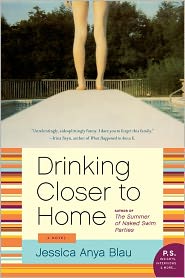 I'll just come out and tell you that I really had problems reading this book. I didn't necessarily care for most of the characters and that made it difficult to get into
Drinking Closer to Home
. I think I kept reading it hoping that I'd find a way to love it. At best, I found a way to tolerate it enough to finish it.
Three siblings are called back home when their mother has a heart attack: Anna, a type A personality who thinks nothing of cheating on her husband; the fragile Portia, who has recently separated from her cheating husband; and Emery, the youngest and most well adjusted, in my opinion, of the three. Told through a series of flashbacks, the reader is allowed a glimpse into what some may call dysfunctional, to which I would add disturbing, lives of the siblings.
The year Anna was 11, Portia was eight and Emery was three, their mother Louise quit the job of mother and housewife. It's not that she gave it up to pursue a career. She simply quit and turned the duties of running the house and raising their brother over to Anna and Portia so that she could feel free to smoke her home grown marijuana. I guess it should have come as no surprise since Louise never really seemed to take interest in anything the children were doing. I think I was most surprised that their father, Buzzy (who I thought was the most sensible of the lot), didn't step in and take control of the situation. Instead, Anna becomes the family cook and laundress and Portia raises Emery.
Raised without guidance and no set of rules, the siblings respond in various ways. Anna becomes a drug addicted bulimic, though she outgrows it. Portia, who her father doubted was smart enough to get into college, proves him wrong but then proceeds to become a docile wife in a one-sided marriage. Emery has the most stable relationship with Alejandro, his boyfriend with which he wants to have children.
As the trio spends the week at the bedside of their mother, you have to wonder how they managed to grow up relatively unscathed. And lest you think that only their parents are dysfunctional, you find that their grandparents are as well. Buzzy's parents ignore Emery as a child, as if there was only room in their hearts for the oldest grandchildren. And Louise's father is a bigoted, gay basher. As you get glimpses of Louise's upbringing, it becomes perfectly clear that she couldn't parent well because she was never parented well. I don't know what Buzzy's excuse was.
I've read several reviews of this book where readers praised the snark and applauded the author for an accurate portrayal of a dysfunctional family. I didn't find anything at all amusing about it.
What did you like about this book.What didn't you like about this book/What could the author do to improve this book?
337pp
Published January 2011
Disclosure:
Galley received from the publisher.
Theme:
You May Be Right
by Billy Joel