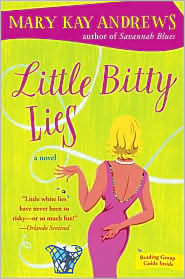 Residents of a small Atlanta suburb are separating and divorcing at alarming rates. When her husband goes missing, or rather when her husband sneaks off in the middle of the night leaving her and her daughter behind, Mary Bliss McGowan is absolutely floored. There were no clues that her husband might have been unhappy and certainly no clues that he had taken out a second mortgage on the house and squirreled that money away, along with every other dime they had. Now Mary Bliss has to figure out how to pay the note that's coming due and how to deal with her unruly teen daughter.
With the help of her sidekick, the hilarious 'tell it like it is' Katherine, Mary Bliss cooks up an insurance scheme that will save her house, she kills her missing husband. It would be helpful if he were really dead and if his mother would stop telling anyone who would listen that he was very much alive.
What did you like about this book?
Andrews' books are formulaic in that there's always a damsel in distress, though she's more than capable of saving herself; the man who's done her wrong; a crotchety elder who provides comic relief; and a fiercely loyal sidekick. She's included all of these in
Little Bitty Lies
and it makes for a humorous read.
What didn't you like about this book?
When Parker, Mary Bliss' husband, finally shows up in the book, he has absolutely no remorse about leaving her or their daughter destitute. I know that people like this really do exist, but I just couldn't get over how arrogant he was.
What could the author do to improve this book?
For some reason the audio version of this book only comes in the abridged format. As a result, I spent a lot of time trying to figure out what was going on because there were scenes skipped. It made for a disjointed listening experience.
Listening time: 6 hours (abridged version)
Published: May 2004
Theme:
Lies
by Johnathan Butler