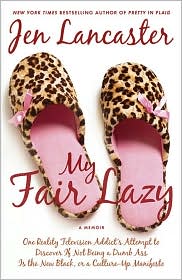 As I listened to
My Fair Lazy
I had to resist the urge to scream out, "You don't know my life!" No, I haven't been on a Pygmalion-like journey like the author, which she called a "Jennaisance." But I can admit to being slightly addicted to reality TV, much like she was...probably still is.
Much like her, my obsession started in the summer of 1992. I was sharing an apartment on campus with three people. Everyone was on a different schedule. Some of us were working that summer, some taking classes and others doing both. But we always found time to tune into
The Real World: New York
. My crew and I had never seen anything like this before. MTV threw a group of aspiring actors/musicians/artists/etc. into a house and let them go at it.
Remember when reality TV stars looked like real people?
This was before the days of "I want my 15 minutes of fame so I'm going to do this dude in the hot tub and hope Playboy picks me up." These kids were simply pursuing their passions in the Big City. Who doesn't remember Julie, the innocent Southern belle, who'd never really been in a multicultural environment? She and Kevin, the prototype for what become the stereotypical "angry black dude" on almost every season of
The Real World,
butted heads big time. Eric was the pretty boy that parlayed his 15 minutes into the MTV show,
The Grind
. Norm was the first openly gay person that I remember on TV. Andre and Becky were aspiring musicians, but Becky was never around because she was always with her boyfriend (plus she was kind of old and boring).
So what am I saying? I could totally relate to Jen getting caught up in reality TV, it's easy to do. It's a 30 to 60 minute escape from your own reality. Much like the author, I had to let
The Real World
go once I realized I was old enough to have birthed some of those children. Not only that, the casts became too formulaic for me.
Angry black dude (occasionally they substitute a black woman, because we're all angry and what not, yanno)? Check!
Gay guy or girl (though the gay men seem to be MTV's preference)? Check!
Someone with an addiction to drugs or alcohol (though no one has been as bad as Ruthie from The Real World: Hawaii)? Check!
There's usually a homophobe thrown in for good measure and a sorority girl.
And these new kids are SO lacking in ambition. No one has a job anymore. At one point MTV would make them get a job, but they were always too drunk to show up so now their job is drinking, fighting and making love to the camera. It seems silly to say, but reality TV is just too scripted these days.
So what have I learned from almost 20 years of watching it? Umm...alligators are easier to hunt if you use rancid chicken in your trap; you don't really have to be a wife or own a house to be on any version of
Real Housewives;
and crazy equals high ratings and a spin-off show of your own if you play it right. Do I think the author really needed to divorce herself from reality TV in order to become better balanced? Naw. Like anything else, as long as you don't over do it, you'll be fine. I think reading balances my TV addiction and keeps me from shouting out things like,
"What in the hell is a Baudelaire?"
What did you like about this book?
As usual, it was an easy read/listen with a healthy dose of snark.
What didn't you like about this book?
At times the humor felt forced, almost as if perhaps the author's life has turned into a scripted reality TV show (see how I did that). Is her life as funny as she makes it seem or does she put herself in different situations hoping something funny happens?
What could the author do to improve this book?
Her interactions with Gina and Stacy are hilarious. I would have loved to see more of Gina in the book.
Listening time: 9 hours, 15 minutes
Published: May 2010
Theme:
The Rain in Spain
from
My Fair Lady