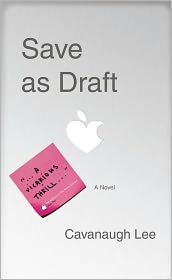 Save as Draft
is an updated version of
You've Got Mail
with a healthy dose of humor and, so far, one of the best things I've read this year. First time author Cavanaugh Lee takes readers along on the adventures of the sparkling Izabell (Izzy) Chin as she balances her romantic and familial relationships, along with friendships.
Told through a series of e-mails, FaceBook postings and tweets,
Save as Draft
is a "girl meets boy, girl dates other boys, girl dates original boy, boy loses girl, another boy finds girl, boy wants girl back" story. Confused? Well sure, it takes a minute to get everyone straight, but you'll have absolutely no trouble understanding what's going on.
Mixed in with Izzy's tweets, postings and e-mails with various characters are the draft versions of emails. These are the most honest of everything the characters say because they portray their true feelings. We've all had moments when we typed an e-mail that really expressed how we felt, but hit "save as draft" instead of send. As a reader, I found myself wishing the characters had the nerve to hit send. In some instances they finally did, but in others true feelings were never expressed, which made me wonder if things would have turned out differently had those feelings been made known. Ms. Lee is at work on a sequel, so I guess we'll have to wait to find out.
What did you like about this book?
It's gives a very accurate portrayal of how people interact today. With texting, tweeting, Facebooking and e-mail, it really is possible to conduct a relationship and go for extended periods of time without talking to someone by phone. Is that a good or a bad thing? Unless you truly know someone, and sometimes even if you do, it can be difficult to read their tone through electronic communication.
Another thing communicating electronically does it take away face to face time. Since the characters already know each other, for the most part, it's not until maybe midway through the book that the reader learns Izzy is Asian-American. And that only comes out as a result of a conversation that she has with someone she's met through an online service. Up until that point, I don't know that I had an image of her in my head. Not knowing what she looked like didn't take away from the story. And when I realized that she wasn't the typical "white chick" of chick lit, I gladly added her to my
Colorful Chick Lit
list.
What didn't you like about the book?
I don't like not knowing what's going to happen next. I was so sure that Izzy and another character would re-connect, but that didn't happen. It's almost like feeling happy for your friend when she gets what she wants, but, as a friend, you think you know what's better for her. So while I'm happy that she's happy, I'd really like her to see with the guy I think she should be with. Does that make sense?
What could the author do to improve this book?
Finish writing the sequel, because I'm dying to see what happens next!
336pp
Published February 2011
Note:
e-Galley provided by the publisher.
Theme:
Why Didn't You Call Me?
by Macy Gray