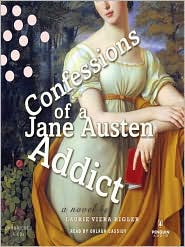 Take a broken engagement, too much Absolut and a love of Jane Austen and you end up with
Confessions of a A Jane Austen Addict
. When her fiance's cheating leads her to call off the wedding, Courtney Stone drowns her misery in a bottomless bottle of vodka. Normally a night of drinking that like would only produce a hangover, but Courtney winds up with much more than that.
Waking up in Jane Austen's England is certainly not what Courtney expected, but it's what she got and she's determined to make the best of it, at least until she can find a way to get back to modern day Los Angeles. Though this book had every opportunity to be funny and charming, it really missed the mark.
What did you like about this book?
It wasn't horribly bad, it just wasn't as entertaining as I would have liked.
What didn't you like about this book?
The story line seemed to go on for far too long, meandering for hours unnecessarily. At times I found myself completely tuning it out and letting my mind wander instead of focusing on what was going on. In addition, the ending was very rushed. After all of the time spent on the beginning and the middle, I would have expected more thought put into the end instead of the abruptness that I got.
What could the author do to improve this book?
This book is actually the beginning of a series, but it just doesn't seem plausible. The book wrapped with finality and a series, in my opinion, would be forced.
Instead of torturing readers with a continuation of this series, the author might have done better to work on learning to tell a better flowing story and then start with a new character and story line.
Listening time: 7 hours, 19 minutes
Published: November 2007
Theme:
Rondeau
from
First Suite in D
by Jean-Joseph Mouret