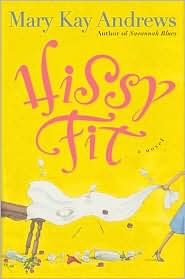 What do proper young ladies do when they catch their fiance' in a compromising position with their best friend at their wedding rehearsal dinner? If you're Keeley Murdock you throw a hissy fit the likes of which Madison, Georgia hasn't seen. And then you watch your world crumble around you.
In Keeley Murdock, Mary Kay Andrews has created another unforgettable character. She's headstrong, stubborn and she doesn't mince words. With her ex-fiance's wealthy family threatening to ruin her family's interior design business, she's forced to take on a new project, redesigning the crumbling mansion of the new owner of what was once Madison's biggest employer.
A handsome redhead stranger, Will Mahoney hires Keeley to restore his newly bought mansion in hopes of snagging the woman of his dream. The only problem is, she doesn't even know he's alive. He doesn't know much about her, but he does know that she's a sucker for old mansions and once Keeley has finished restoring his, it will just be a matter of time before.
What did you like about this book?
Unlike other Andrews' books where it's obvious from the beginning who the lead character will end up with, it wasn't so clear here. While Will was distracted by his socialite Atlanta lawyer love interest, Keeley's ex-fiance' was still very much a player in the quest to get her back.
What didn't you like about this book?
I'm used to Andrews' books having an older character that provides quiet a bit of comic relief. Will's secretary, Ms. Nancy, had the potential to do so, but she was underutilized in that capacity.
What could the author do to improve this book?
There was a storyline with Keeley's mother that honestly was unnecessary. It wasn't really relevant to the overall story and was, at times, distracting.
432pp
Published: August 2004
Theme:
Tonight the Heartache's On Me
by The Dixie Chicks