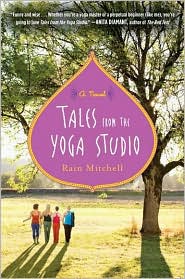 The women that visit Edendale Yoga do so because there's something about medical student turned yoga instructor Lee. Somehow she intuitively knows what each person in her class needs, even if she's unsure of what she needs herself. Through
Tales from the Yoga Studio
debut author Rain Mitchell introduces us to every day women from all paths of life who may have never met had it not been for yoga.
A recovering addict with an unstable path, masseuse Katherine has enjoyed her time working at Edendale Yoga and values her friendship with Lee, even if she questions her marriage to Alan.
Graciela comes to the studio in search of healing for an injury. If she's able to overcome it, she may have a chance to audition for a video that could change her life.
Imani has been in hiding since she suffered a miscarriage months ago. Though she's a successful actress and wife, she longs to be a successful mother.
Stephanie is driven and determined to be the best screenwriter and developer possible. Her abrasive ways tend to rub people wrong and when she finds her world crumbling, she believes she has no one to turn to.
In their own ways, and sometimes without knowing it, the women of this book reach out to each other and build them up. This was impressive work from a first time author and truly a feel good read.
What did you like about this book?
The author introduces elements of yoga without making the book about yoga. In fact, even though the women meet through their time at the studio, most of their interaction takes place away from it.
What didn't you like about this book?
I appreciated the introduction to each character, but I didn't feel like I got a chance to really know them since there were so many of them. I realize that this is the first in a series, so perhaps as more is written, each character will be explored in greater depth.
What could the author do to improve this book?
Dig deeper. We barely touched the surface with these ladies. There's so much more to be told about each of them.
288pp
Published: December 2010
Disclosure: Copy received from publicist.
Theme: Girl by Destiny's Child