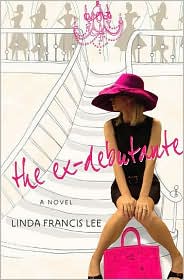 The only thing better than good chick lit is good Southern chick lit where the character has a melodious name. In Carlisle Wainwright Cushing, Linda Francis Lee has created the quintessential name for a Southern belle. The only other chick lit character's name that even comes close is Dimpsey Jo Killebrew in Mary Kay Andrew's
The Fixer Upper.
Having become a successful divorce attorney in Boston, being summoned back home to Willow Creek, Texas to handle her mother's divorce was not on Carlisle's list of things to do. She purposefully moved to a town where no one knew her to escape the Wainwright name, money and reputation. No one in Boston, not even her fiance, suspects that she comes from money. And as far as she's concerned, she'd like to keep it that way.
Now she not only has to handle her mother's third, or is it her fourth, divorce, she's also been tasked with singlehandedly saving the Willow Creek Symphony Association Debutante Ball. No one in town has forgotten the tumble she took when Carlisle was a debutante. And no one in town can stop talking about her mother's latest divorce scandal. Carlisle is determined to save her mother's reputation, once again, and pull off a ball the likes of which the town of Willow Creek hasn't seen before, even if it means rounding up a motley crew of debs.
What did you like about this book?
The characters were really smart and very well developed. Sometimes secondary characters are tossed into a story with no background, but Lee took the time to tell everyone's story so that the reader didn't have to guess as to why characters were behaving in certain ways.
On a personal note, I picked this up as a former debutante because I thought it would be interesting since I thoroughly enjoyed my time as a deb. My daughter is a senior this year and was vehemently opposed to participating, so I didn't force her. As we listened to
The Ex-Debutante
during our morning and evening commutes, she constantly exclaimed, "THAT is the exact reason why I refused to participate in that nonsense." Whatever kid!
Delta Debs, 1988




What didn't you like about this book?
The narrator's voice was a little blah at times, like she'd rather be painting her toenails or plucking her eyelashes out one by one.
What could the author do to improve this book?
Can't think of a thing.
Listening time: 11 hours, 4 minutes
Published: May 2008
Theme:
She's Not Just a Pretty Face
by Shania Twain