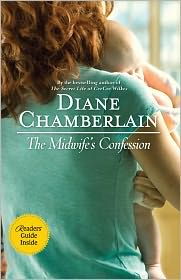 I so thought I knew how this book was going to turn out when I started it. In my mind, it would play out like an episode of Law & Order and I'd have an answer to what was really going on within 60 minutes. That SO was not the case.
In a book with more twists and turns than a maze,
The Midwife's Confession
is an "on the edge of your seat" read. You won't realize it when you first start it because it's such a nice story about three friends in a quaint northeastern town. Written in a Jodi Picoult-like style, the story is told from the view point of not only the three women, but others, as necessary.
Friends since their college days, two of them have raised daughters together, while the third has been the midwife to them both. When midwife Noelle takes her own life, Tara and Emerson begin to question just how well they really knew their friend. And although Tara is wrapped up in her own grief and Emerson has been busy with her new restaurant, nothing in Noelle's behavior made either believe she had something to hide, let alone commit suicide.
As they delve deeper into Noelle's past, they discover that not only was she living another life that they were unaware of, her actions in that life directly affect them and their children. Is it really possible to know someone for over 20 years and never really know them? Apparently, it is.
What did you like about this book?
I totally thought I had it figured out and I so didn't. I love a book that surprises me.
What didn't you like about this book?
The book left a few questions unanswered. I would have loved an epilogue just to satisfy my curiosity about what came next.
What could the author do to improve this book?
Other than wrapping up loose ends, not a thing.
432pp
Published April 2011
Theme:
Girl
by Destiny's Child