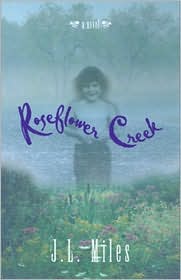 At times
The Lovely Bones
, at other times
Bastard Out of Carolina
,
Roseflower Creek
is a sad and unforgettable story. Set in the 1950s, it tells the tale of Lori Jean. Abandoned by her birth father, she's being raised by her mother and an abusive stepfather.
Lori Jean escapes the realities of home by visiting her best friend, Carolee's, house. Later she seeks refuge in the home of her aunt and uncle. Eventually, nothing and no one can save her from the monster that is Ray, her stepfather.
Narrated much like
The Lovely Bones
,
Roseflower Creek
is told in first person and begins with the death of Lori Jean, then takes the reader back to the very beginning to paint a vivid picture of how her life ended in such tragedy. Because Lori Jean is so young when we meet her, she tells the story with the innocence that only a child can. It's definitely a must read.
What did you like about this book?
There was a never a dull moment. As I read, I could hear Lori Jean's voice and see things as she described them. The author did a wonderful job of creating imagery.
What didn't you like about this book?
The cover is absolutely awful. Had I seen it in the store or library, I would have never picked it up just based on how it looks.
What could the author do to improve this book?
It's recently been released for the Nook and Kindle and the new cover looks much better than the original.
Published: September 2001
240pp
Theme:
Haunt Me
by Sade