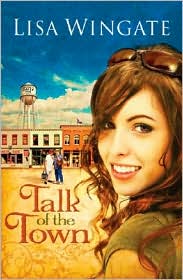 Talk of the Town
is like
Fried Green Tomatoes at the Whistlestop Cafe
meets American Idol. Throw in an associate producer who's trying to hold on to her job, while keeping a secret from the whole town about why she's there, and a mysterious stranger, and you have the makings of a cute southern, chick lit story.
A quick and easy read, Wingate fully utilizes the townspeople for comic relief. She does such a fine job of describing the characters, that I was able to imagine not only how they looked, but how they sounded as I read it. If you're looking for a good beach read or just some lighthearted reading with a hint of romance, this is definitely it.
What did you like about this book?
The older women that worked as a waitress and beautician were absolutely hilarious. I would love to see a book centered on the two of them.
What didn't you like the book?
I think the cover is so cheesy. I'm not sure who the woman on the cover is supposed to be, but she doesn't look like any character described in the book.
What could the author do to improve this book?
It would be perfectly fine with me if the author just wrote about Imagene Doll and the other residents of Daily without bringing in extra characters.
368pp
Published March 2008
Theme: Something to Talk About by Bonnie Raitt