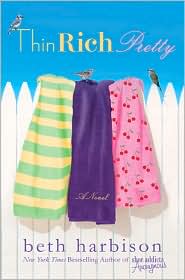 Summer camp at the age of 13 forever changed Holly, Lexi and Nicola. As kids, Holly struggled with her weight; Nicola her nose; and Lexi, the death of her mother. Fortunately, Holly and Nicola had each other to lean on from the day they met. Fast forward 20 years and the girls are still friends. Lexi, on the other hand, was a part of a group of girls that spent the summer tormenting Holly and Nicola.
Lexi always envied the friendship that the other two had, but when you're 13, it's difficult to go against the crowd. Since the crowd looked down on the girls, Lexi did too. And now that her father has died and she's left with only the stepmother that hates her, Lexi finds that the superficial friends who surrounded her when she had money aren't truly her friends.
Told from the points of view of all three lead characters, I found
Thin, Rich, Pretty
to be a delightful listen. I was a bit hesitant to give it a listen because it got pretty low ratings on GoodReads, but I enjoyed it. I think others tried to throw it in the chick lit genre and though it was about three women, it wasn't about them getting rescued from their situations by men. Rather, they rescued themselves and each other.
What did you like about this book?
The relationship between Nicola and Holly was very believable.
What didn't you like about this book?
I wouldn't consider this book overall to be chick lit. There was little romance with the exception of Lexi, which made me wonder why Nicola and Holly didn't really have love interests. Holly is dumped by her fiance' early on and Nicola's love life is never mentioned. I'm not sure if Lexi was given a romantic interest because she had been dependent on her deceased father
and the author felt like she needed a man to take care of her or if the author felt like there was no other story line to explore for the character.
What could the author do to improve this book?
Since Holly and Nicola were such good friends, a lot of their chapters overlapped. Because of that, it was almost like Lexi was an afterthought. Perhaps a better balance of the three women would have worked better.
Published: July 2010
352pp
Theme: Unpretty by TLC