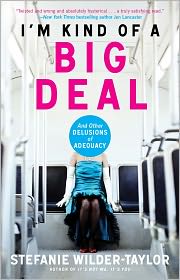 At least the latter part of the book's title is accurate, because the author is quite delusional with her announcement that she's "kind of big deal." What started off as a funny look at life in the 80s/90s as a high schooler and then a struggling comedienne/writer turned into a boring, meandering pile of blah.
At times it reminded me of Chelsea Handler's hilarious
Are You There Vodka, It's Me Chelsea
. Other times it reminded me of her less than funny
My Horizontal Life.
Honestly, I'm not even sure why the author or her public felt this book was necessary.
What did you like about this book?
The first fourth of the book was really funny.
What didn't you like about this book?
There was a big chunk of the author's life left out. So the jump from single girl/struggling comedienne/new writer to happily married "not sure what she was doing for a living" was startling. There was no explanation offered. The seriousness of her tone once married infers that she grew up in that chunk that's missing, but one can only guess the reasons behind her sudden maturity since the author doesn't share them with the reader.
What can the author do to improve this book?
Stick to writing fiction.
272pp
Published June 2011
Theme:
Everybody Wants to Rule the World
by Tears for Fears