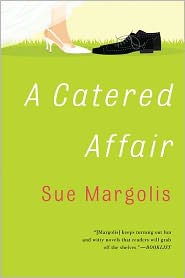 Tallulah, yes, in the 21st century, someone is named Tallulah, has certainly kissed her fair share of frogs. When her doctor boyfriend proposes, she's thrilled! Her mother doesn't care for him, but that doesn't bother Tallie too much. Believing that he's the kind of man her deceased father would want her to marry, Tallie forges ahead to the big day.
Tallie's nana has used her settlement money for survivors of the Holocaust to give Tallie a wedding fit for a princess. So with her bohemian mother, her lively grandmother, her sister and her sister's girlfriend by her side, Tallie is ready to walk down the aisle. The only problem is there's no groom there to meet her.
Humiliated on her big day, Tallie's family is doing everything they can to help her rebound. Her grandmother plays matchmaker, her sister offers her refuge and the wedding caterer gives her a shoulder to lean on. And it just may turn out that Tallie dodged a bullet with her runaway groom.
What did you like about this book?
Even though this book was 384 pages, it didn't feel like it. It was a quick and easy read with liberal doses of humor to make the time enjoyable.
What didn't you like about this book?
It was slightly predictable, but it didn't detract from the overall story line.
What could the author do to improve this book?
I'd love to see a series created around these characters. With a few exceptions, all of the characters were highly enjoyable and could carry their own story line.
384pp
Published: August 2011 (Pre-order now!)
Theme: Don't You Remember