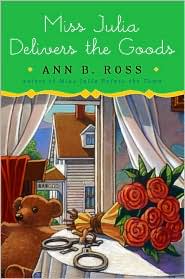 I have a confession to make. I've been listening to the adventures of a senior citizen for the last month or so. I would always see the Miss Julia series on the shelves of the library, but thought why would I want to read about a 60something white woman in North Carolina? I still can't remember how I ended up with the audio version of
Miss Julia Delivers the Goods
, but I'm glad I did. A combination of Julia Sugarbaker from Designing Women and Sophia Petrillo from The Golden Girls, Julia Springer is hilarious!
This book happens to be the 10th in the series, but Ann B. Ross does an excellent job of bringing the reader up to speed so that you can pick up any book in the series and be fine. Miss Julia's late husband, Wesley Lloyd Springer, was a mean and domineering, yet wealthy, man. When he died, Miss Julia found out that not only did he have a mistress, Hazel Marie, but that they had a son together, Lloyd. Not worried about how it might look to others, for once, Miss Julia takes in Hazel Marie and Lloyd. Rounding out the cast of lively characters is Lillian, Miss Julia's cook and housekeeper; Sam, the deceased Mr. Springer's attorney and Julia's current husband (or boyfriend depending on which book you're reading); J.D., Hazel Marie's boyfriend; and Latisha, Lillian's great granddaughter.
Frances Sternhagen
(Miss Julia in my head)
Much like "regular" chick lit, Miss Julia finds herself in the craziest predicaments. And like the chicks in regular chick lit, she's usually in the situations she's in because of something she's done. The only difference is Miss Julia tries to be a prim and proper Southern lady through it all. And her idea of what is proper and what is not keeps her in trouble.
This time around Miss Julia has her knickers in a bunch because the unwed Hazel Marie is pregnant by J.D., who has no idea that he's about to be a father because Hazel Marie has broken up with him and sent him packing. Now Miss Julia steadied the wagging tongues when an unmarried Hazel Marie showed up with Lloyd, but she'll be kicked out of society once the other ladies in town find out that Hazel Marie is about to become an unwed mother again and this time, she's having twins! Miss Julia is determined to use her meddling ways to get J.D and Hazel Marie to the altar before the rest of the town finds out about the newest bundles of joy.
What did you like about this book?
I can't really pinpoint one thing. Most of you already know I'm a sucker for small town stories set in the South. Throw in a funny older lady and I'm sold.
What didn't you like about this book?
Because I've only listened to the Miss Julia books and not actually seen them in print, I don't know if Lillian's way of speaking is dictated by the author or by the narrator. Either way, it's quite offensive that Ann B. Ross has Lillian speaking as if she's just two years off the plantation. I don't know if I'd notice it so much in print, but it's magnified in the audio version.
What could the author do to improve this book?
Realize that when she wrote the rest of the characters in the 21st century, she should have included Lillian.
Published April 2009
Listening time: 10 hours, 30 minutes
Theme:
All I Want
by Carly Simon