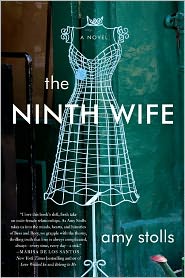 Any woman with the sense God gave a crazy road lizard would run like hell when the man she's dating tells her he's been married eight times. She surely wouldn't consider becoming wife number nine. Or would she?
Bess Gray is pretty darn quirky. A folklorist by day and practicing martial artist by night, she collects cultural artifacts and a strange array of friends, including her flamboyant neighbor Cricket. When the charming Rory McMillan enters her life with his Scottish lilt and fiddle playing, Bess is immediately taken with him. He's living and breathing folklore, is he not?
Their whirlwind romance inevitably leads to a proposal of marriage, but before Bess can contemplate marriage, Rory drops the bomb about his previous marriages, all eight of them. With her grandparents relocating from the east coast to the southwest, Bess offers to drive them and, along the way, meet each of Rory's previous wives in a quest to determine whether or not she should become
The Ninth Wife
.
What did you like about this book?
I loved hearing about Rory's past relationships. At first the thought of someone in their mid-forties having been married eight times seemed improbable, but as I read (and allowed my imagination to stretch), it became more plausible. Also, the dynamic between Bess' grandparents is particularly interesting.
What didn't you like about this book?
A lot of time is spent exploring Rory's past relationships, but with the exception of her ex-boyfriend/current neighbor Sonny, not much is mentioned about Bess' previous relationships.
What could the author do to improve this book?
As I said, a little more about Bess' relationships would have been appreciated.
Published May 2011
496pp
Theme: Take A Chance on Me by ABBA