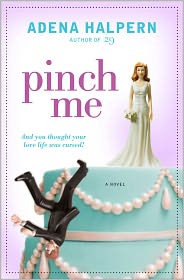 "Never marry a man unless he's short, bald, fat, stupid and treats you badly."
Those are the words Lily Burns' mother, Selma, and grandmother, Dolly, have drilled into her all of her life. Why? Because the women in their family are cursed. Marrying for love is sure to leave you broken-hearted and alone. And at least if you marry a man with all of those bad traits, you're in no danger of loving him.
But does Lily listen? She tries for the longest, dating the baldest, shortest, fattest and most rude man she can find, Jonah. Even Jonah dumps her though and then, Gogo enters her life. He's the opposite of everything Lily has been told to look for in a man. And eventually, he wants to marry her. But there's the curse. Should they throw caution to the wind and marry anyway or should Lily drive him away? Of course she should marry him. But wouldn't you know it, as soon as she does, her perfect life with Gogo disappears and it looks like the family curse isn't just an old wives' tale.
What did you like about this book?
This is my first book from Adena Halpern, but I've heard from several other readers that her books are charming. I have to agree.
Pinch Me
was charming and magical at once. It was an absolute page turner and I found myself cheering Lily on in hopes that she would get things right and find a way to reverse the family curse.
Selma and Dolly provided the perfect comedy relief. Halpern wrote their characters in such a way that, even though she didn't really describe them physically, I was able to create them in my mind. Think Fran's mother and grandmother from
The Nanny
meets Lucy and Ethel.
What didn't you like about this book?
I really can't think of a thing.
What could the author do to improve this book?
Not a thing. It was a perfectly enjoyable read.
288pp
Published July 2011
Review appears as part of the Crazy Book Tour.
A copy of the book was provided by the publisher.
Theme:
Every Little Thing She Does is Magic
by The Police