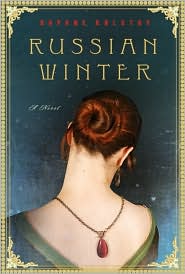 Though it's quite a lengthy read,
Russian Winter
is the perfect book for those that appreciate the history of Russia, the arts and intrigue. Blending the past and the present together flawlessly, it's the story of Nina Revskaya, a former star of the Bolshoi Ballet. The secondary story, just as intriguing as Nina's, is that of Grigori Solodin.
Growing up in Stalin's Soviet Union, Nina is accustomed to living with the bare minimum. When she meets the handsome poet Viktor Elsin, she's immediately fascinated by him. As they grow as a couple, they also grow in their careers. And while their careers don't afford them very many luxuries, they have slightly more freedom than other citizens.
Professor Grigori Solodin is an expert on the work of Viktor Elsin. Adopted by an older couple, his research into his birth parents lead him to Elsin. Though he's never shared his theory with anyone, he's convinced that Nina Revskaya and Viktor Elsin must be his parents. If they're not, then why does he have the missing piece of jewelry from Nina's fabulous collection?
Wheelchair bound, Nina can no longer dance, but she can help keep the arts alive by donating her substantial jewelry collection for auction. Some pieces have come from admirers through the years, but her most valued, yet most despised jewelry came from the husband who betrayed her with her closest friend, confidante and fellow ballerina. It's those same pieces that lead Grigori Solodin to her doorstep.
What did you like about this book?
I was impressed with the detail in which Kalotay describes not only the Soviet Union of that time, but also the people. It's apparent that the author did her research and took great effort to write an in-depth story that not only tells the story of Nina Revskaya, but of Russia itself. Reading it was enough to make me want to turn on the samovar for tea and revisit some of my favorite Russian authors.
What didn't you like about the book?
The character of Zoltan Romhanyi didn't add a lot to the story. I interpreted his scatterbrained, mumbling to himself ways as a mirror for Grigori to see what his life could become if he only focused on work and took no time to immerse himself in social activities after his wife's death. However, he felt more like an intrusion to a story that flowed so well until each time he abruptly appeared.
What could the author do to improve this book?
Other than eliminating or reducing the role of Zoltan, not a thing.
Published September 2010
463pp
Theme: Tchaikovsky's
Swan Lake