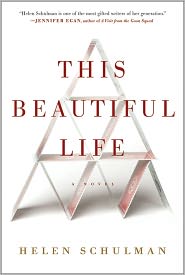 I'm almost tempted to start this review with the
Law & Order
"ripped from the headlines" disclaimer.
This Beautiful Life
really does have the feel of a
Law & Order
episode, but instead of wrapping the case up in an hour, it takes you beyond and shows the aftermath of families affected by the headlines. And it's rarely pretty.
By the looks of all things, the Bergamots are a traditional family. Traditional in that father Richard is a university higher up, while stay at home mom Liz cares for their fifteen year old son, Jake, and Coco, the rambunctious five year old they adopted as a baby from China. Everyone knows their roles within the family. It's Richard's job to make sure the family is provided for and guide them all in the directions they should go, without causing ripples in the fabric of their lives. It's Liz's job to make sure that no one in the family distracts Richard with their trivial problems.
When fifteen year old Jake receives a video of a prepubescent girl, who hopes to convince him that she is indeed old enough to partake in anything he might, his first reaction is to forward it to his closest friends. Unbeknown to him, hitting the send button will have far reaching ramifications. His father blames his mother for not raising him to be smarter than that. His mother blames his father for being emotionally unavailable. And Coco is simply overlooked as all focus turns to saving Jake's future.
What did you like about this book?
It was very interesting to see how each family member reacted to "the situation." One would suspect that there were already splinters in the family's relationships with one another, but it seemed that the members of the family were unaware of them prior to the incident. Watching this near perfect family implode before my eyes was much like watching a train wreck. Turning away simply was not an option.
What didn't you like about this book?
Coco didn't have a voice in the story telling. Richard, Liz and Jake all had the opportunity to tell the story from their point of view, whereas Coco was almost treated as the family pet. Her behavior prior to the incident was discussed by both parents, but after, it was like she was silenced.
It was also just a little strange that the girl that set off the flurry of events was treated as an afterthought. Not only did Jake's parents view her as a troublemaker, the author of the book seemed to as well, seemingly forgetting that she was only 12 when the incident occurred.
What could the author do to improve this book?
I didn't really care for the ending. It seemed a bit rushed and I would have liked to see it fleshed out in more detail.
240pp
August 2011
Theme:
Cats in the Cradle
by Harry Chapin