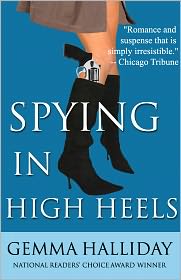 Lovers of chick lit, if you've found yourself looking for a new series to read, welcome to the wacky world of Maddie Springer. With the smarts of a Mary Kay Andrews heroine and the quirky charm of a Sophie Kinsella leading lady, Maddie's world is a non-stop whirlwind of hilarity.
Children's shoe designer by day, and unintended super sleuth whenever the spirit hits her, Maddie finds herself on a mission to locate her missing boyfriend and clear his name with the feds. With her best friend, Dana, as her trusty sidekick, Maddie is determined to prove to handsome detective, Jack Ramirez, that there's no way her boyfriend could have done all of the things the feds claim she did. Oh, and there's the nagging question of whether or not she's pregnant.
Rounded out with a cast of great characters, the
High Heels
series is definitely going on my list of great chick lit reads.
What did you like about this book?
Halliday has really created a not too bright, yet likable character in Maddie. I found myself comparing the characters to those in Lifetime's
Drop Dead Diva
. With the exception of that show's lead character, Jane, I could easily see swapping characters out interchangeably and creating a television series based on Maddie and her crew.
What didn't you like about this book?
Not much. It was a quick and easy read, what's not to love about that?
What could the author do to improve this book?
I can't think of a thing.
324pp
Published: August 2006
Theme:
Before He Cheats
by Carrie Underwood