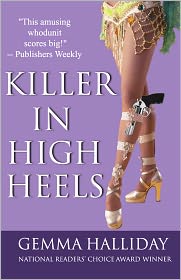 Maddie Springer, one of my newest chick lit faves, is back again. If you'll remember, we first met Maddie in
Spying in High Heels
. In that book, she was trying to track down her missing boyfriend while resisting the charming Detective Jack Ramirez. Luckily, she made it out of that adventure relatively unscathed. Lucky for her and lucky for readers, Maddie is back!
Killer in High Heels
finds our nosy yet adorable protagonist heading for Las Vegas after a strange call from the father to whom she's never spoken. Along for the ride are her best friend, Dana, and Marco, the flamboyant receptionist from her stepfather's salon. Hijinks and hilarity ensue as the trio tries to locate and save Maddie's dad, all the while keeping the mob at bay.
What did you like about this book?
Though Maddie is funny in her own right, Dana and Marco are equally funny and entertaining.
What didn't you like about this book?
It seemed to run longer than necessary. There were a few times when it could have wrapped up, but it seemed to be drawn out for no particular reason.
What could the author do to improve this book?
I'm still working my way through the series, but Maddie's mother and her mom's best friend, Mrs. Rosenblatt, are hilarious. I'd love to see more of them.
310pp
Published March 2007
Theme: Viva Las Vegas by Elvis Presley