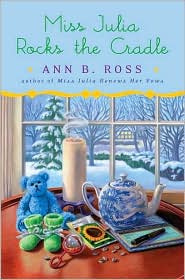 It's been quite awhile since I've posted a review of the
Miss Julia
series, but I've been listening to her antics all summer. In the latest,
Miss Julia Rocks the Cradle
, she's back with another round of madness and mayhem.
With the arrival of Hazel Marie and JD's twins any day, the household is in an uproar. I don't know how big Miss Julia's house is, but current household members include JD, Hazel Marie, Lloyd, Sam, Miss Julia, Etta Mae, Lillian and Latisha. And "dem babies" are on the way!
Never one to just give readers one story line to follow, in addition to Hazel Marie's pending delivery, there's the problem of Miss Julia bouncing checks all over town and a mystery to be solved when the body of Richard Stroud, a former resident of their small town who was sentenced to prison for white collar crimes, turns up in the shed of Miss Petty, Lloyd's teacher. It just so happens that Miss Petty lives next door to Miss Julia's arch nemesis, Thurlow Jones. Though she usually can't stand him, Miss Julia has no choice but to get in good with Thurlow if she plans to figure out what Richard was doing in the shed.
As usual, Miss Julia muddles things and it's only through the assistance of Lillian, the patience of Sam and overall good luck that she's able to straighten things out and, once again, return her household to the peaceful place she loves.
What did you like about this book?
Miss Julia is an absolute riot. I've thought she was hilarious since book one and she continues to be.
What didn't you like about this book?
I'm still bothered by the dialect used by Lillian. While everyone else speaks as if they're in the present, Lillian continues to speak as if she's in the early 20th century. I have to question if the author knows any people of color outside of the ones she sees on TV or has created in her head.
What could the author do to improve this book?
I'd like to see more characters have their own story lines that focus more on them and not on Miss Julia. I find each of them to be interesting so it would be nice to give them a chance to really shine.
320pp
Listening time: 9 hours, 36 minutes
Published April 2011
Theme: Bug-a-boo by Destiny's Child