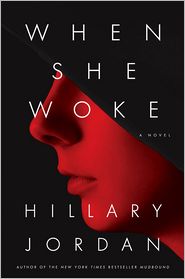 I didn't expect to be blown away by this book. Sure, I requested it from Algonquin Books because it looked interesting, but I had no idea that it would completely draw me in and make me late for work because I couldn't put it down.
In this reimagined, futuristic version of
The Scarlet Letter
, sinners don't wear a letter indicating their crime. They wear the color on their skin. The need to direct funds away from prisons and to law abiding citizens has led to the non-existence of prisons. Through a process called chroming, criminals are color coded and microchipped, allowing anyone that passes them on the street to know what their crime is and allowing the government, and anyone with a computer, to track them at all times. Yellows serve short sentences for misdemeanors and Blues are child molesters. Red is the color for murder.
When Hannah Payne fell in love with a married man, she had no way of knowing that she would end up a Red. Having an abortion in a United States where it's no longer legal is tantamount to murder. So when the authorities find out that Hannah has indeed had one, she's brought to trial. The refusal to name the doctor that performed the procedure or the father of the aborted child add time to her sentence and she faces the prospect of 16 years as a Red. Faced with a future of being shunned by her mother and treated as a second class citizen by the rest of the country for the next 16 years, Hannah is determined to make her way to a place where she won't be judged.
Jordan pulls from so many areas with
When She Woke
. Canada and her version of the Underground Railroad harken to runaway slaves making their way from America to a country where they would be seen as free men and women. The overturning of
Roe v. Wade
, along with an appointed Secretary of Faith, are indicators that America, as we currently know it, is no more. Though I don't remember the year that the story takes place being referenced, the United States, in this book, has clearly moved completely to the right and the party that claimed to want no government interference now interferes with every aspect of human life and morality.
What did you like about this book?
I love books that force me to think. What would it be like to live in a world where your every move can be tracked by the government or where your crime is worn on your sleeve so blatantly? I imagine that it would be stifling.
What didn't you like about this book?
I had the same problem with this book that I had with
The Scarlet Letter
, the protection of father of the child. Ugh, just like Hester Prynne pissed me off, so did Hannah Payne.
I hated seeing both women take the fall for a sin in which two people were guilty, but only the women were implicated.
What could the author do to improve this book?
I would have loved an epilogue just to wrap things up neatly for me.
352pp
Published October 2011
Disclaimer
: Copy received from publisher. Opinions are completely my own.
Theme: Skin I'm In by Cameo