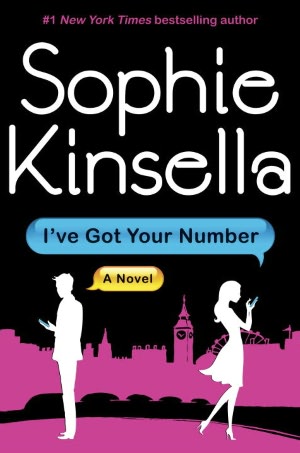 How does one manage to lose her cell phone AND engagement ring on the same day? If you're a Sophie Kinsella heroine, it's to be expected. And as a reader, would you really want anything less from Kinsella?
I've Got Your Number
is the story of Poppy (isn't that an awesome sauce name?) Wyatt, a physical therapist who is engaged to what she thinks is the most wonderful man in the world. Mind you, he sounded like an awful bore from the moment I read about him, but this is Poppy's story, not mine. Anywho, after a brief romance, Poppy finds herself engaged to Dr. Magnus Tavish, a university lecturer. See what I'm saying? He has an awful name AND a boring career. Poppy was destined for someone better from the time I started reading this book.
Unfortunately, Poppy loses her phone within minutes of losing her engagement ring at a luncheon. So when she stumbles upon a brand new phone in the trash bin, she retrieves it and decides to use it until she has a chance to replace their phone. I know what you're thinking. Who does that? Look, this is a Kinsella book. Anything can happen...and it always works. Minutes after retrieving the phone, Poppy begins to receives texts and emails for someone named Violet. It turns out this was Violet's work phone and she ditched it, along with the job, for a career in modeling.
Sam, Violet's former boss, agrees to let Poppy keep the phone for awhile as long as she forwards his emails and texts. Of course Poppy agrees and of course hijinks and hilarity ensues.
Previously I've only listened to Kinsella books. I worried that the humor wouldn't translate well on paper. I've had that problem before with other books where the written version was better than the audio version and vice versa. I was worried for no reason because Kinsella's words are just as funny on paper as they are being read aloud. I'm anxiously awaiting her next book.
448pp
Published: February 2012
Theme: When Sly Calls (Don't Touch That Phone) by Michael Franks