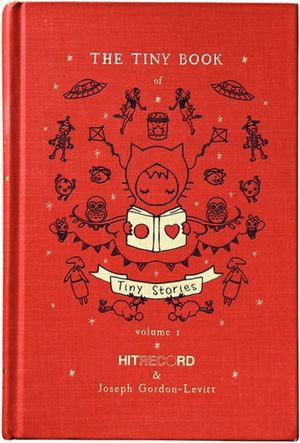 Let's talk about how adorable this little book is. It's all tiny and cute, kind of like Joseph Gordon-Levitt, the guy that put this together. If his name sounds familiar, it's because you've seen him in
3rd Rock from the Sun
and various movies, including one of my favorites,
(500) Days of Summer
.
Can I digress for a minute and talk about how much I wanted to punch Zooey Deschanel's character in the stomach for hurting this diminutive creature in that movie? He was all, "Oh, I love her. The birds sing sweeter, the sun shines brighter, etc. when she's around." And she was all, "Whatever." Think I'm playing?
(500) Days of Summer
came out in 2009. It took me until last year to like Zooey again and that's only because her show,
New Girl
, is hilarious. Before that, I was still mean mugging her when she showed up on my screen.
Anyway, if you are or were a fan of Shel Silverstein's work (and who doesn't love
Where the Sidewalk Ends),
you're going to adore
The Tiny Book of Tiny Stories
. Created by Gordon-Levitt as a way to give artists a way to express themselves, it's a tiny, cute, quick read from a tiny, cute guy.
Below are some of my favorites from the book.
"Okay, I'll admit, I have a few skeletons in my closet, but they weren't skeletons when I put them there."
One day before breakfast, an orange rolled off the counter and escaped its fate, bounding happily through the kitchen door. Filled with hope, the egg followed.
His hands were weak and shaking from carrying far too many books from the bookshop. It was the best feeling.
As the sugar cube sank in the cup of tea, he did his best Wicked Witch of the West. "I'm melting," he screamed, MELTING!"






88pp
Published: December 2011
Theme: They're Coming to Take me Away by Napolean XIV