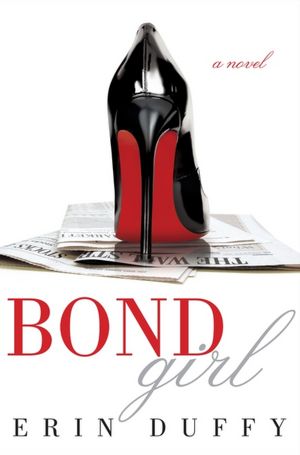 Before we get into this
Devil Wears Prada
meets Sophie Kinsella meets Wall Street
Bond Girl
, can we get into this book cover? How fabulous is that shoe? And how lovely are the fonts? Anywho, that's not what you're here for.
Overly ambitious Alex Garrett has dreamed of working on Wall Street ever since she was a little girl going to work with her father. When she scores a job at Cromwell Pierce, she's determined to be successful. Ahhh, the naivete of youth. Sure, Alex can be successful, but it won't happen overnight.
In a trial by fire existence, she'll need to learn how to navigate her way through male privilege, standoffish female coworkers and a boss that refuses to take no for an answer. And while she's doing that, she still needs to pass the exams that will qualify her to trade on Wall Street, figure out what to call her "relationship" with a coworker and fend off an overly aggressive potential client.
Though not as funny as a Kinsella book,
Bond Girl
still has a lot of good moments and funny parts. As I read, I could imagine Alex scooting her folding chair up and down the row, the noise on the floor and the intensity of the every day pressure. It was also easy to imagine what the characters looked like. Duffy did a good job of bringing the scenes and the characters to life in her debut novel. I'm definitely looking forward to reading more from her.
293pp
Published: January 2012
Disclosure:
Copy received from the publisher. Opinions are my own.
Theme: Theme from Mary Tyler Moore