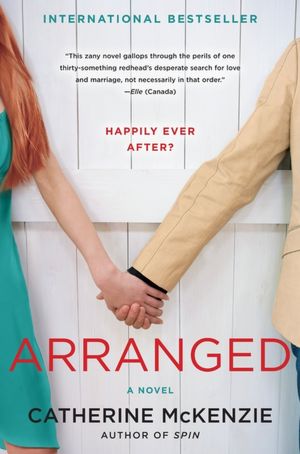 You shop online for clothes, shoes, books, music, etc., but would you shop online for a husband? In today's social media focused world, you're just as likely to meet someone on an online dating site, Facebook or Twitter as you are at a club, bar or grocery store.. But would you pay someone to find you a guaranteed spouse? That's exactly what Anne Blythe does in Catherine McKenzie's latest,
Arranged
.
Anne has always fallen for the wrong man, so when she stumbles across a business card for what she thinks is a dating service, she calls them. Realizing that it's actually a marriage bureau, she decides to give it a try. I mean, who wouldn't be interested to see with whom researchers and their tests say you should share your life?
Jack Harmer, like Anne, is a writer. The two hit it off immediately during their week long "getting to know you" stay in Cancun. So when the question of whether or not they should marry is posed to them, they readily agree to give it a go.
How do you go back and tell your family and friends that you've gotten married to someone they've never heard of or met? You lie. Lies beget lies and when their facade of a marriage begins to fall apart, Anne has to face the truth. How well does she know the man she married? Was the marriage bureau a scam and, if so, did she just throw $10,000 away? Would you spend $10,000 to find the perfect mate?
As different as
Arranged
is from McKenzie's
Spin
, I enjoyed it just as much. The author has a knack for making you believe you know exactly what's about to happen and then taking you down an entirely different path. Much like when I read
Spin
, I didn't put it down once I started. Her writing is just that good.
416pp
Published: May 2012
Disclosure: Copy received from publisher, opinions are my own.
Theme: Somewhere There's a Love by Shalamar