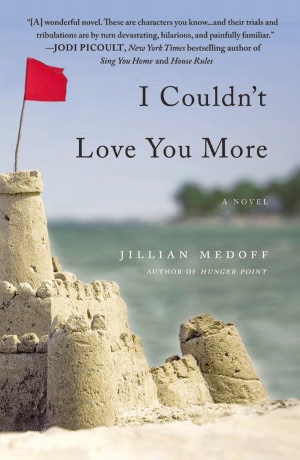 When I started this book, I didn't give much thought to the title, or rather where the emphasis on certain words should be placed. As I continued to read, 'I couldn't love YOU more' versus 'I couldn't love you MORE' begin to dance around in my head. The reason I struggled with how it should be said is because of the main character, Eliot.
Eliot, mother of Hailey, longtime live-in girlfriend of Grant and stepmother of Charlotte and Gail, is the glue that holds her family together. Eliot also plays a central role in the lives of her overly dramatic older sister, Sylvia; her beautiful sister, Maggie; and her instigating mother. With all that she does for everyone else, you have to wonder when Eliot does anything for herself. And that's exactly why her old college flame is able to breeze in and reclaim her heart.
Growing up, Eliot was never the smartest (that was Sylvia) or the prettiest (that was Maggie), she was just Eliot. So when Finn Montgomery noticed her freshman year in college, she fell head over heels because she was not the kind of girl that typically gets chosen by guys like Finn. Finn, however, didn't fall for her. He was charming enough that Eliot settled for being his friend until the night Finn confesses to her, "You're my person, Eliot." Sidebar: If you watch
Grey's Anatomy
, you know that Meredith and Christina are each others person (well, they were until recently). So when Medoff had Finn tell Eliot that, I knew exactly what she meant and how it was supposed to make Eliot feel. The problem was, Finn didn't tell Eliot that until the end of their senior year, right before they graduated and he moved to New York without her.
Fast forward 15 years later and Eliot is in a happy, loving relationship with Grant, a divorced father of two. Even though Grant has full custody of Charlotte and Gail, he still supports his ex-wife financially, which puts a strain on the household account. Grant seems like a good guy, but the parenting of all of the kids, and everything that goes with parenting, seems to fall on Eliot's shoulders. To top it off, she has to deal with teen angst and resentment in the form of Charlotte. Is it any wonder that when Finn reappears in her life, she readily entertains the thoughts of the carefree life she could have with him?
Eliot's revisionist history has her believing that Finn was the great love of her life, but if she was being honest with herself, he was pretty crappy and self-centered from day one. Yet, this is a man she spent ten years mooning over until Grant came into her life. (Seriously ma'am. Y'all had a few months together, he moved on and you spent ten years longing for a man that didn't give you a second thought?) In a typical case of the grass looking greener on the other side, she begins to give more of her time to him and less to her family, which ultimately leads to tragedy. It also lead to me screaming at the book, "Just walk away from all of them!" but um, she couldn't hear me so...yeah.
'I couldn't love YOU more' versus 'I couldn't love you MORE' seemed to be the underlying theme in Eliot's relationships with the men in her life, the children in her life and her mother and sisters. Her life wore me out and I was just reading about it! Jillian Medoff does an excellent job of bringing all of the characters, even the ones on the peripheral, to life. It's my first read from her, but it definitely won't be my last.
432pp
Published: May 2012
Disclaimer: Copy of book received from publisher, opinions are my own.
Theme: Couldn't Love You More by Sade