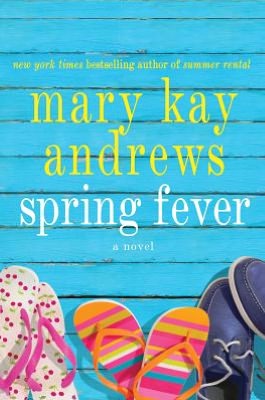 Let me start off by saying if there's a southern tourism bureau, they would do well to hire Mary Kay Andrews to promote visiting their small towns. Whether they're real or imagined towns, Andrews' words have readers falling in love with places like Tybee Island; Guthrie, Georgia; and Passcoe, North Carolina. And don't let me forget Savannah, Georgia. It's obvious that Andrews is a southern girl through and through and she adores her corner of the world.
Prior to
Spring Fever
, I would have said without a doubt that Bebe Loudermilk and Weezie Foley were my favorite Andrews' characters, second and third only to Dempsey Jo Killibrew. Now I'd have to say that with
Spring Fever
she's combined the gumption of Dempsey with Bebe and Weezie's antics and given readers the delightful Annajane Hudgens and her fearless sidekick, Pokey Bayless Riggs.
Best friends since they were five, Annajane and Pokey are also ex-sisters in law. Annajane married Pokey's oldest brother, Mason, and even though that didn't work out, the women have remained friends. In fact, Annajane and Mason still work together at Quixie, the family's cherry cola soft drink company that's been around for years. While it hasn't always been the most comfortable situation, Annajane has stayed because she loves Quixie, Pokey and Sophie, Mason's daughter from another relationship. But with Mason and Celia, the company's new consultant, getting married, Annajane figures it's about time she hightails it out of Passcoe and gets on with her life.
But Mary Kay Andrews heroines never get off that easily, now do they? Before Annajane can leave town, quite a few complications pop up. An emergency appendectomy pauses Celia and Mason's nuptials and Pokey and Annajane uncover a plot by Celia to sell off Quixie. It's Annajane, Pokey and even Sophie to the rescue!
I have to admit that I was worried about whether or not I'd love this book as much I did Andrews' previous works. I wasn't sold on last year's
Summer Rental
, so I wasn't too optimistic when I picked this up. I was pleasantly surprised though, as it seems Andrews has returned to the lighthearted, small town formula that seems to work so well for her.
416pp
Published: June 2012
Disclosure: Copy received from publisher, opinions are my own.
Theme: Heartbreak Town by The Dixie Chicks