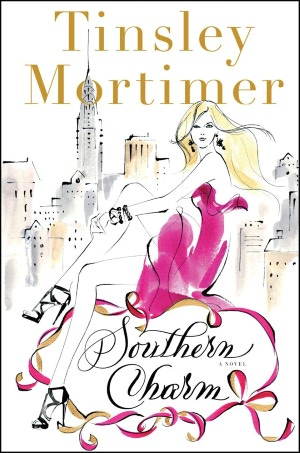 Minty Davenport, or Mary Randolph Mercer Davenport, whichever you prefer, though I do think Minty is absolutely a delicious name. It just rolls off your tongue right? Anyway, Minty Davenport is a southern debutante in every sense of the word. She of the Charleston, South Carolina, certainly not West Virginia, Davenports is the daughter of none other than Scarlett and Gharland, and heiress to Magnolia Gate, an estate that's been in the family for five generations. So what's any self-respecting debutante to do when she finds herself with a college degree, but no fiance'? She heads to New York!
Lest you think she's the next coming of Mary Tyler Moore, she's not. Minty has a nice apartment on the Upper East Side, thanks to her mother's connections, but not a job in sight. That changes once she hooks up with her sorority sister and lands a job with the best boutique PR firm in the city. In a page from
Devil Meets Prada
, Minty finds herself working for the hard to please, nothing is ever quite right Ruth Vine. Long days and nights at the firm don't leave Minty much time for socializing, but at least Ruth's agency handles the hottest events in town.
With a new gig and a new life in the big city, it's only a matter of time before Minty finds the perfect man. He comes in the form of Tripp du Pont, the same Tripp du Pont who broke her 15 year old heart years ago during Christmas break in Palm Beach. It's hard to believe Tripp has changed, but Minty quickly finds herself on his arm at all of the important social events and before she realizes, she's New York's next "It Girl." Can Minty juggle work, Tripp and the life of a socialite? Not hardly, but you'll enjoy reading about it as she tries.
Debut author Tinsley Mortimer has created quite the charming character in Minty Davenport. Though Minty could have come off as spoiled and unlikeable, she is neither. I enjoyed the relationship that Minty and Scarlet had. I would have expected the stereotypical, intrusive mother acting for her own selfish gain to the detriment of her debutante daughter and, though Scarlet did interfere occasionally, she ultimately kept the best interests of Minty close to her heart at all times. I'm excited to see if more adventures in the big city await Ms. Davenport.
256pp
Published: May 2012
Disclaimer: Copy of book received from publisher, opinions are my own.
Theme: New York, New York by Frank Sinatra