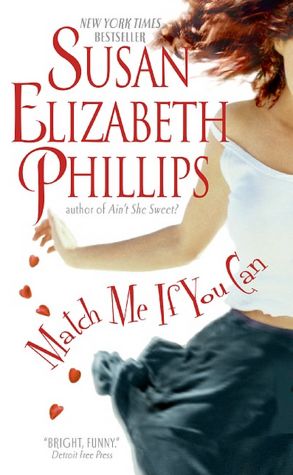 Take one adorable woman with just a hint of smart ass, add one no nonsense man who needs to loosen up and throw them together in the most unlikely circumstances and you have the formula for a hilarious Susan Elizabeth Phillips novel. As was Sugar Beth Carey in Phillips'
Ain't She Sweet
, Annabelle Granger is not only a smart ass, she's a smart ass that doesn't know when to quit. She's met her match in the man they call "The Python," Heath Champion. No ladies, they don't call him that for the reasons you think. Get your minds out of the gutter.
The only average person in a family full of overachievers, Annabelle can't live up to the standards set by her brothers or her parents, nor does she want to. All she really wants is to make a success of the matchmaking business started by her beloved Nana. If she could get just one big name client to sign on, and successfully match him, she's sure her business would take off. Well known sports agent Heath Champion would be just the man with enough star power to guarantee her future, but Heath already has a matchmaker.
Heath Champion knows sports, players and how to negotiate. Those skills have gotten him far and made him one of the top agents in the country. He's also a man with a plan and, now, that plan includes getting married. While he doesn't have a bride in sight, he's decided that he's far enough in his career that he can afford to settle down. Raised in a trailer park in a podunk town, he's worked hard to overcome his small town ways and become a man about town. Heath wants a well-groomed, sophisticated woman to help smooth out his rough edges and be an asset to him when he's mixing and mingling with A-list crowds and athletes.
Annabelle has her hands full as Heath not only shoots down each woman she picks for him, he also shoots down the women her nemesis, Portia, picks. Just when it looks like neither matchmaker is capable of finding the woman of Heath's dream, Portia introduces him to "the one," and hilarity ensues. By the way, the secondary story line with Portia is just as funny, if not funnier than Annabelle's.
I love smart characters, and smart ass characters are even better, so you know I loved Annabelle Granger. Phillips' female characters are no shrinking violets. They give as good as they get.
Match Me If You Can
is full of strong, smart women, something I find refreshing in chick lit. You already know from the moment you start the book that the characters will wind up together. Susan Elizabeth Phillips' writing makes the journey entertaining and thoughtful from beginning to end.
416pp
Listening time: 11 hours, 18 minutes
Published: August 2006
Theme: It's Been You by Anita Baker