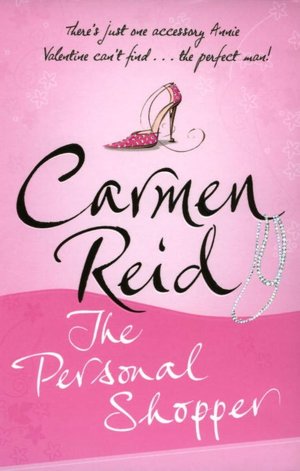 From the same publisher that brought us Sophie Kinsella comes Carmen Reid and if you like Kinsella, you'll love Reid. Whereas Kinsella's characters tend to be twentysomething singles, Reid writes about women of a certain age. This week, I'll be highlighting the first three books in Reid's Annie Valentine series.
I downloaded
The Personal Shopper
back in June, when it showed up on a list of free books in a daily email I receive. I thought it had a cute cover, but I put it on my "I'll read that one day if nothing better comes along" shelf. Sometimes you just have to be in the right frame of mind to appreciate books. After reading some heavy/boring/obligated reading, I picked
The Personal Shopper
up and took it for a spin, and what a spin it was.
Annie Valentine can size anybody up and immediately know what kind and cut of clothes work for them, which designers would look best on their frame and what shoes are better left on the rack. As a personal shopper at "The Store," it's her job to know these things. Annie transforms her clients like Michelangelo did the Sistine Chapel ceiling. Not only does she change their outer appearance, she gives them confidence to take on anything, whether it's the search for hubby number four or a promotion at work.
Annie is in search of husband number two herself. It's not easy, or cheap, to raise a teen daughter and extremely shy, preteen son by herself. And she has to dress herself as well as the women she consults with at The Store. Being fashionable does not come cheap. When she's not working at the store, she's giving private consultations, scouting for and selling items on her eBay store, and exploring the world of online dating. She's also the queen of do it yourself projects, buying homes in need of repairs, restoring them, selling them for a profit and moving to a nicer neighborhood, each time, only to do the same thing all over again.
When she catches the eye of a wealthy dentist at her mother's party, Annie believes she may have found the one. The facts that he's impotent, old-fashioned and seems to have an aversion to kids are just minor mountains to overcome. What's important is that if she marries him, she won't have to struggle so much to keep Lana and Owen in private school. But is Annie really ready to remarry just for financial security?
I thought this book was absolutely hilarious. In particular, there's a scene in the jacuzzi between Annie and Gray, the dentist, that had me cackling over my lunch. I doubt that younger Kinsella readers would appreciate it, but the more seasoned readers would definitely find it hilarious.
432pp
Published: September 2007
For the Love of Money by The O'Jays